This Multiple Award-Winning Equine Law Book
is Available for Purchase!

Julie's long-awaited Equine Law book, published by the American Bar Association, was released in October 2019. The book, Equine Law and Horse Sense, is 372 pages and is packed with new, hard-to-find information of interest to lawyers and non-lawyers. Even if you already own her first two Equine Law books, you'll definitely want this book. It offers much more information and detail. Order it now on Amazon. Click here for order information.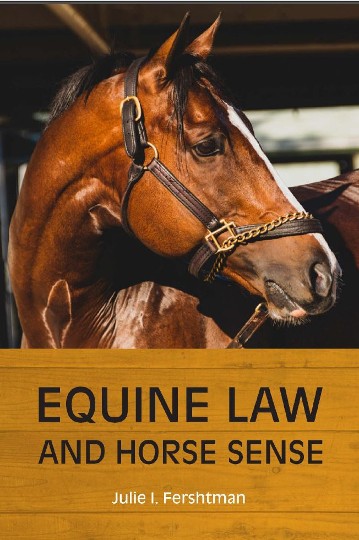 This book has been tremendously well-received since its publication in 2019, winning four national awards. It won 1st Place in the 2020 American Horse Publications Media Awards, First Place in the NYC Big Book Awards in the Category of "Reference" books, a Silver Award from the Independent Book Publishers Association at its 2020 Benjamin Franklin Book Awards, and a Finalist Medal in the 2021 Next Generation Indie Book Awards.
Topics include:
• What is Equine Law?
• Details on the 48 equine activity liability acts (as of 2019) and a state-by-state guide for complying with contract and sign posting requuirements.
• Legal aspects of boarding, training, sharing and leasing horses
• What makes stables liable (or not liable) if a boarded horse is injured, and what can parties do to protect themselves from liability?
• Land use and zoning issues, and 'horse-friendly' zoning.
• Business structures and how to avoid personal liability for equine business activities.
• Effective elements of equine contracts as well as waiver/release documents (no forms).
• Equine insurance and how to avoid disputes with your insurer.
• Loose horse liabilities.
• State-by-state guide to complince with each of the 48 state Equine Activity/Farm Animal Activity Liability Acts.
-- and much more
Thank you for your years of interest in Julie's first two Equine Law Books. Thousands have sold, but they're now out of print: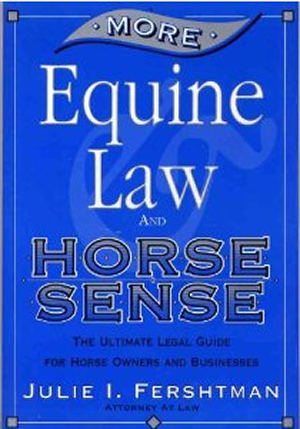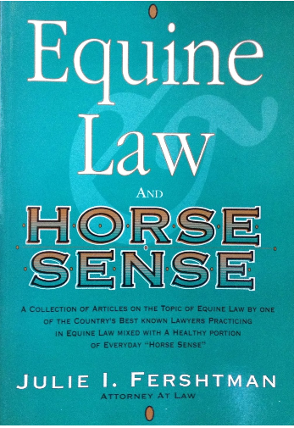 Equine Law & Horse Sense (published 1996, 166 pages), MORE Equine Law & Horse Sense (published 2000, 234 pages).

In addition to these books, Julie Fershtman is also co-author/co-editor of the ABA book Litigating Animal Law Disputes: A Complete Guide for Lawyers (584 pgs.)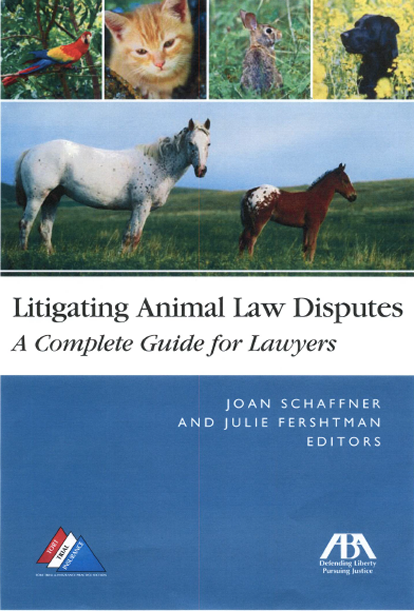 This book was published by the American Bar Association in 2009 and is available for purchase through the ABA and on Amazon. Chapters include:
Negligence and Tort Law
Animal Ownership and Custody Disputes
Veterinary Malpractice
Animal Insurance and Coverage Disputes
Animal Related Contract & Sales Disputes
Animal Association Law
Criminal Law
Expert Witnesses
Practical Considerations for Animal Law Attorneys -- and more
About the Author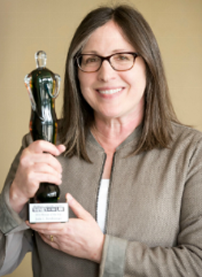 Julie I. Fershtman, an Equity Shareholder with the law firm Foster Swift Collins & Smith, PC, is among the nation's best-known and most experienced Equine Law practitioners. For more complete biographical information, please visit these websites: www.fershtmanlaw.com, www.equinelaw.net, and www.fosterswift.com.
Crossing virtually all equine breeds and disciplines, her law practice serves a national** clientele of stables, professionals, associations, veterinarians, businesses, show management, insurers, trainers, "celebrity clinicians," and individual horse owners.
Hard-to-find Equine Law Experience. She has taken Equine Law cases to trial in 4 states and has achieved numerous victories. In one year, she won jury trials in three states (Ohio, Illinois, and Michigan), 2 appeals, and a major Federal Court insurance coverage case. In addition, she has helped clients avoid legal disputes by drafting a wide variety of equine industry contracts, including waivers/releases, purchase or sales contracts, boarding contracts, training contracts, leases, and numerous other contracts. She has drafted several hundreds of these types of equine contracts.
Equine Industry Service. Her equine industry volunteer work includes service on boards of the American Youth Horse Council and the Equine Land Conservation Resource. She also has served for several years on the Planning Board for the National Conference on Equine Law.
Accomplishment and Peer Recognition. A lawyer for 35 years, she is listed in The Best Lawyers in America, 2013-2021 (Categories: Commercial Litigation and Insurance Law) and is rated "AV" 5.0/5 [highest rating for abilities and ethics] by Martindale-Hubbell Law Directory. She was named the 2016 "Woman of the Year" for the State of Michigan by Michigan Lawyers Weekly (see photo above with award). The lawyer rating website, AVVO, rated her 10.0/10 (its highest rating) for several years. She has also been named a Michigan "Super Lawyer®" from 2008-2021 and has been listed as one of the "Top 100 Lawyers in Michigan" and "Top 50 women lawyers in Michigan" by Michigan Super Lawyers.® Michigan Lawyers Weekly named her a 2010 "Leader in the Law." She is a graduate of Emory College and Emory Law School.
Equine Industry Recognition. For her service to the equine industry, Ms. Fershtman has received several distinctions. CHA (Certified Horsemanship Association) honored her with its "Partner in Safety" Award. The American Riding Instructors Association presented her with its "Outstanding Achievement" Award. The American Youth Horse Council gave her its "Distinguished Service" Award. She also received an "Associate Award" from the United Professional Horsemen's Association. She received the Michigan Equine Partnership's "Industry Service" Award, and the Michigan Horse Council's "Catalyst Award."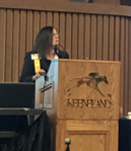 Speaking Engagements - 29 States (and Counting). With speaking engagements that span 29 states, Ms. Fershtman is unquestionably the nation's most sought-after speaker on Equine Law. Her speaking engagements include Equine Affaire (Ohio, Massachusetts, California), Equitana USA, National Conference on Equine Law, Midwest Horse Fair, U.S. Dressage Federation Convention, U.S. Hunter/Jumper Association Annual Meeting, U.S. Pony Clubs Convention, American Horse Council Convention, American Paint Horse Association Convention, American, United Professional Horsemens Association Convention and webinar; Carriage Operators of North America Convention, Hoosier Horse Fair, Michigan Horse Council International Expo, National "Agri Con" Agribusiness Conferences, American Youth Horse Council Convention, and several others. In addition, her articles have appeared in over 400 publications and web sites.
Contact the Author
Visit websites: www.fershtmanlaw.com, www.fosterswift.com, and www.equinelaw.net.
BLOG: www.equinelawblog.com
Please "LIKE" Our EQUINE LAW Facebook Page!
Now on Twitter!

Julie I. Fershtman, Esq.
Shareholder
FOSTER SWIFT COLLINS & SMITH, PC
28411 Northwestern Highway, Suite 500
Southfield, Michigan 48034
Direct Line: (248) 785-4731
E-mail: jfershtman@fosterswift.com

IMPORTANT:
The choice of a lawyer for your legal matter is one that should always be taken seriously and with great care.
If you have a legal matter and want to hire Ms. Fershtman, please remember that we must carefully avoid conflicts of interest. Please do not e-mail, mail, fax, or send us details of your potential legal matter. (We might already represent the other side.) Instead, please call Ms. Fershtman's office [Direct line: (248) 785-4731 - Main office line: (248) 539-9900] so that we can evaluate potential conflicts and determine whether our firm is right for your legal matter.
**What state(s) does your legal matter involve? We need to know.
The location of your legal matter is important. Ethical restrictions and regulations prevent Ms. Fershtman from handling cases all alone in states other than Michigan, her state of licensure. Hiring her on your out-of-state matter will likely require you to hire a local lawyer to work in some capacity with her. Ms. Fershtman has been admitted as special (pro hac vice) counsel on equine lawsuits in 20 jurisdictions across the country.
Do you have a local lawyer on your case? Please consider hiring Julie Fershtman to consult with your lawyer or to team up as co-counsel. All new matters are subject to a conflict check and a retainer letter.